Super 6ft High Speed Performance Certified HDMI to HDMI Cable
Model: Arrow6
Finally!!! A single cable solution for all your HDTV & home theater setup.This is the one cable that gives you the highest quality of high definition video and multi-channel audio in a single cable. It is fully compatible with both 720p and 1080i. This cable is compatible and easily connects to LCD TV'S, Plasma's, Projectors and DVD players.
HDMI is a data superhighway for digital video and audio. For the best high definition experience, use an HDMI cable that delivers all the picture and sound data your HD components require. . This cable is optimized for the next generation performance of HDTVs and game consoles that will require 1080p resolution with Deep Color technology. . Advanced High Speed HDMI cable with a bandwidth at a maximum of 10.2 Gbps. Specially designed for home theater enthusiasts who also want the best in HD viewing and/or gaming. . Dolby TrueHD and DTS-HDTM Lossles surround sound provices Greater cable bandwidth for support of Dolby TrueHD and DTS-HD lossless surround sound, available on Blu-ray DiscTM and HD DVDTM movies.
Buy This Product and Related Items
HDTV Optimized
Supports 1080P
HDCP Compliant
High Definition Multimedia Interface
High Density Triple Layer Shielding Rejects Outside Interference
Ultra High Definition Image Detail
Highest Available Quality Reproduction
Uncompressed Signal For Exceptional Clarity
Purity Enhanced copper Conductors
High Performance Cable for Best Performance
Superior Cable Jacket for Maximum Durability
Length: 6 FT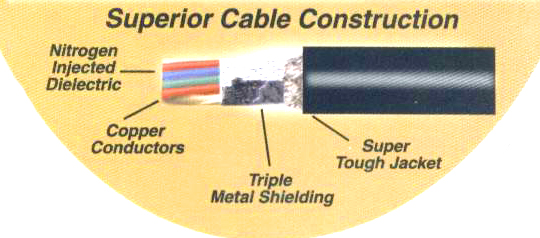 NOTE: Shipments to all international destinations as well as Hawaii, Puerto Rico, Alaska, APO addresses or PO Boxes may require different shipping costs than what will be presented during the checkout process. If necessary, we may contact you to update your shipping charges after your order has been placed. Please call us at 888-488-2635 for details should you have any questions.