Consumer Priority Service
Extended Service Plans
This Plan Covers: Televisions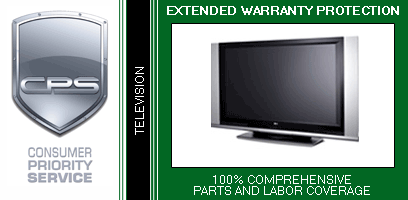 Protect Your Investment!
Gain Peace of Mind with Years of Hassle Free Use
What is Covered Under This Plan
This plan provides 100% comprehensive parts and labor coverage for the duration of the coverage period. This service plan protects any size television products which fall into the following categories:
High definition TV (HDTV)
Flat panel televisions
Plasma televisions
LCD televisions
Projection televisions
Tube televisions
Projectors
TV/VCR/DVD combos
You may purchase an Extended Service Plan for the following reasons:
Along with a product you purchase on our website. Just add this service plan to your cart before checking out or return to our website within 30 days to purchase a plan.

For a product you purchased at another location or website. (Note: Before we can issue you coverage, you must show us proof that you purchased the covered product within 30 days of purchasing an Extended Service Plan here. You may fax or e-mail your receipt so that we can initiate coverage)
Click here to read the terms and conditions of this contract.
Why do customers choose CPS?
100% comprehensive parts and labor coverage
12,000 nationwide authorized service centers
Zero deductible
Convenient toll-free 800 number
If we can't fix it, we will replace it
No lemon policy
Fully renewable, fully transferable
Easy to use registration process
Hassle free claims system
Worldwide coverage with CPS GLOBAL
Our shield means You're Protected
If You Are Still Unsure About an Extended Service Plan, You Should Click Here.
Who is Consumer Priority Service?
Consumer Priority Service was founded on the belief that consumers deserve better service. Putting the satisfaction of the consumer at the forefront of their corporate policy has driven their company to be among the very best at post sale service both on and offline. Their lineup of consumer protection products can be found at AmericaÕs largest retailers as well as AmericaÕs best boutique shops.
Why Do I need This?
Consumer Priority Service Extended Protection plans provides you with easy protection from potentially high future repair costs. Planning ahead and taking action now can save you the stress of dealing with unqualified servicers should your product become defective. Saving time and money is in everybodyÕs best interests.
What is Covered?
CPS Protection Plans are extensions of your manufacturersÕ written warranty with a few added bonus features. Any malfunctions that would normally be covered within the terms and conditions of the original written warranty would be covered through the life of the Consumer Priority Service Extension. ÒOur Shield Means You're Protected.Ò
Benefits of Owning a Consumer Priority Service Plan
Zero Deductible
All CPS plans are zero deductible. This means that ALL costs associated with Parts and Labor to repair your defective product are covered. Owning a CPS service plan means youÕre FULLY COVERED.
Total Access
With CPS you can file a claim for repair or replacement 24 hours a day 7 days a week through our consumer network at www.cpscentral.com
In-Home Service
In-Home parts and labor protection plans provide service for your products at your home or your workplace. Contact us Toll Free at 1-800-905-0443 so that we may arrange for a convenient service time for you.
Express On-Site Upgrade
With our Express On-Site Upgrade plan you can now upgrade any of our service plans to include door-to-door service. We'll pickup your defective product from your home or workplace, repair or replace it, and return it to you.
Product Replacement Plan
Any product that plugs in or takes a battery qualifies for this program. If your product fails to operate properly under the terms of its written warranty, we will replace it, No Questions Asked!
Nationwide Service
Consumer Priority Service provides complete coverage across all 48 contiguous states.
No Lemon Guarantee
If our authorized service center determines your product to be beyond economical repair or they have unsuccessfully attempted to repair your product three times, we will replace your product.
Peace of Mind
Owning a CPS service plan virtually guarantees that you will get years of use from your product through the duration of the plan.
For more information, please view the CPS Extended Service Plan Terms and Conditions.