Barkan Motorized LCD Wall Mount 3 Movement Electronic Rotate, Swivel & Tilt Up to 42" LCD 33E.B
The "Butterfly" design story, patented for mounting system

We looked for additional ways to improve the viewing pleasure of end users
with Barkan products. We consulted with numerous designers and all suggested
subtle changes without jeopardizing the integrity of the product. We weren't
satisfied with the proposals, and continued to search for an original idea.
One day, our in-house designer looked at our connecting mechanism and
suggested "why not design a mechanism similar to an animal all are
familiar with". We tried a number of animals and came up with a butterfly
shape. Animals in the wild, through generations of evolution, have developed
a body structure enabling them optimal and flawless movement in the air, sea
and land. By using their effectiveness and ability to work in harmony, we
have implemented these various characteristics in the development of
mounts and connecting mechanisms to the TV. We have succeeded to harness
the most efficient movement of animals, to our new product design, which
transformed the viewing possibility to a more diversed application as
compared to what is presently available in the market.
Motorized wall mount in modern and prestigious design for LCD screens up
to 30 kg (66 lbs), 3 movements. With cable management and quick & easy
installation. Unique and innovative movement to rotate, swivel and tilt
with use of remote control.
Sold in colour metalic black.

For every LCD back screen mounting holes up to: 400 X 400mm (VESA and non VESA).
Includes: 75X75, 100X100, 200X200, 300X300, 400X200mm. For every LCD back screen
mounting holes up to: 600X400mm use mount with Model 38 LCD mount adaptor extension.

Also compatible to:
Larger screen sizes, where their specification comply to the mount.
Designed to fit:
SHARP,SONY, PHILIPS, SAMSUNG, TOSHIBA, PANASONIC, NEC, LG,
PIONEER, RCA/ THOMSON, JVC, DELL, FUJITSU, LOEWE, AKAI,
HITACHI, HAIER, TELEFUNKEN, WESTINGHOUSE, SANYO, GRUNDIG,
BEKO, VESTEL,METZ, ORION, DAEWOO, HISENSE, CHANGHONG
& Other popular brands.
Includes: Butterfly Wings, Remote Control, Instructions, Hardware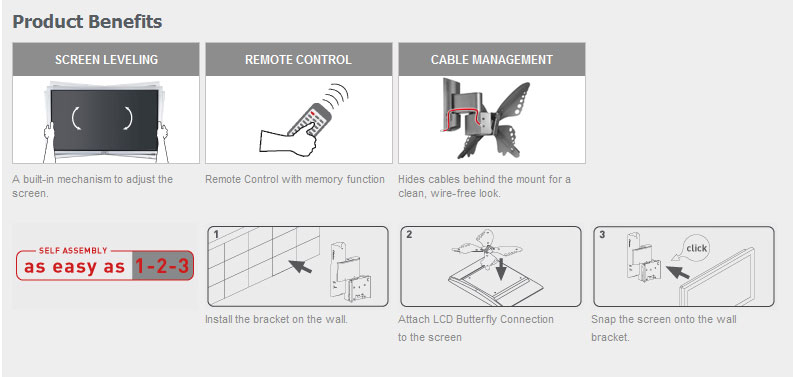 NOTE: Shipments to all international destinations as well as Hawaii, Puerto Rico, Alaska, APO addresses or PO Boxes may require different shipping costs than what will be presented during the checkout process. If necessary, we may contact you to update your shipping charges after your order has been placed. Please call us at 888-488-2635 for details should you have any questions.