Safe Home 4-CH DVR Security System w/ 160GB HD & 4 Day Light Cameras & Cables
Model: MT-K000-JN03-16-BUNDLE
Basic and Easy to Install (Do it your self) 4-Camera Security System with Hard Drive
When the need of Securing your Home or Business, or Monitoring your Children's Room activities is important to you, we have the Easiest and Basic solution.
With the 4-Camera Security System that includes everything you need to keep an eye on your valued property or Monitoring your home with the minimal investment and reliability as the 4-channel Security System with enough Hard Drive space to keep track for months
DVR Security System that comes with Digital Surveillance Technology that keeps your money and property protected.
Features
Peace of mind while you are home or away.
Watch and record from up to 4 area of your home.
Screen visitors at your front door from your television.
Easy installation with Plug-and-Play
Digital Technology with professional quality video
System Diagram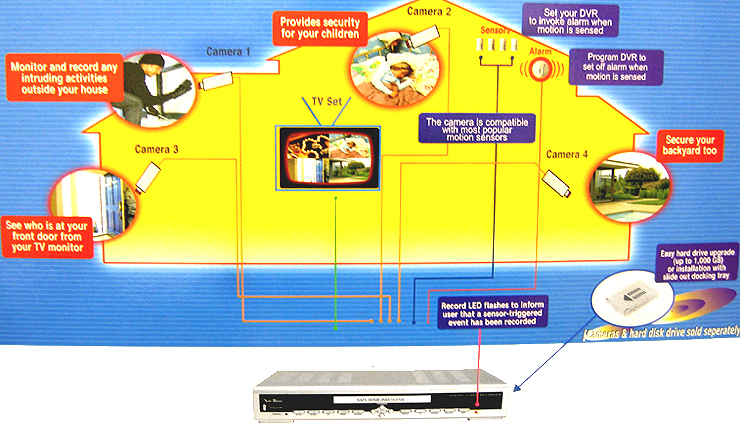 Package Includes
A.) MT-K000-JN03-16
Front View

Rear View

Features:
Simultaneous, real-time digital recording from up to 4 cameras

Includes 160GB IDE Hard Drive (Supports up to 240 GB hard drive)

No need to change a tape daily (6-month recording with 120GB HDD, Records 1 year with a 240 GB HDD)

Compatible with most home security alarm systems

Record activation from motion detectors

Connect to any TV, no special monitor required

Professional quality picture with adjustable frame rates.

Unattended operation from home or away
Technical Descriptions
Protects investments in standards:
Works with standard TV as monitor
Uses standard PC hard drive
Co-exists with standard sensors
Expandable video storage:
Compatible with any IDE hard drive up to 240 GB
Display Frame Rate:
NTSC: 720 x 480 in each mode
Record Resolution: NTSC: 320 x 224 in quad mode / 640 x 224 in each mode
Record Frame Rate: NTSC: 30 fields/sec (quad mode) / NTSC: 7.5 fields/sec (each mode)
Recording Time: Up to 1 year with 240 GB HDD (2 months for every 40GB of HDD)
Other:
Camera: Inputs: 4
Video Outputs: 2
Sensor Inputs: 4
Alarm Output: 1
Dimension: 13.8" (W) x 10.3" (L) x 2.5" (H)
Input Voltage: 90~264 VAC, 47~63Hz
Power Consumption: Max. 40W
Compression: Modified JPEG

B.) Removable 160 GB HDD Storage Capacity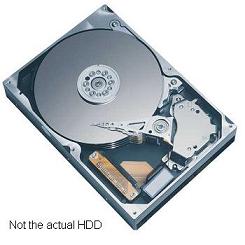 C.) High Resolution DSP Color Dome Surveillance Camera ST-270A
Features:
Digital Signal Processing (DSP) allows better picture quality.
Center Zone Weighted back light compensation
High quality pictures in low-light conditions
Full Auto White Balance
Auto Gain Control, Electronic Iris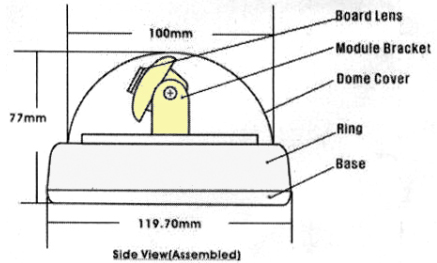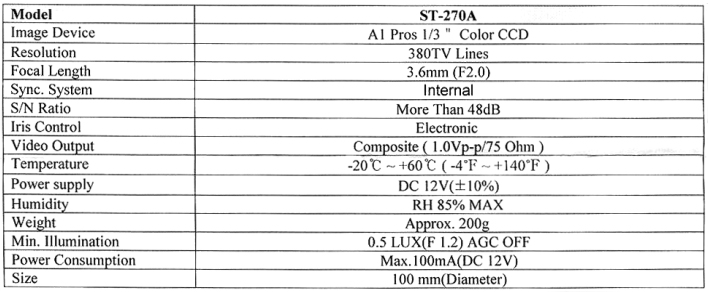 The Basic System includes the following
4-Channel DVR Security Recording System with RCA Input/Output Video Jacks
160GB HDD SATA Hard Drive for storing months of Recordings with capability to Overriding older ones
4pcs Daylight Color Dome Cameras built with Sony Chips, guarantying to provide clear color image, Made in Korea
4pcs 12-Volt Power Adapters to power the cameras
4pcs 60-feet Coaxial Powered Cable with RCA connections, Beige color
4pcs BNC to RCA Adapters
2-Security Keys to Access/Remove the Hard Drive
Pre-Installed Hard Drive for your convenience
Installation Guide
NOTE: Shipments to all international destinations as well as Hawaii, Puerto Rico, Alaska, APO addresses or PO Boxes may require different shipping costs than what will be presented during the checkout process. If necessary, we may contact you to update your shipping charges after your order has been placed. Please call us at 888-488-2635 for details should you have any questions.