The SmartMount¨ Pull-Out Swivel Wall Mount combines the best features
of a wall mount and a pivot arm. In the closed position, the SP850-UNL
acts as a flat or tilting wall mount. At only 3.4" away from the
wall, its unique wall plate and built-in cable management neatly hide
all components and cords. Extended, the SP850Õs sturdy arm construction
smoothly glides the screen out 11.9" from the wall and allows the
screen to pivot up to 45 degrees. This feature not only enables the
screen to be positioned for an optimal viewing angle, but it also
provides easy access to the back of the screen for maintenance.
The SP850-UNL is also ideal in applications where the screen needs
to be recessed into a cubby hole, custom frame or aligned into a
video wall. Mounts to 16" wood studs, concrete or cinder block.
Features:
Includes universal adapter plate for mounting holes up to 28.75 W x 17.05H
Pull-out swivel with up to 45deg rotation depending on screen size
Locking tab provides optional swivel restriction to one side
3.4" deep in closed position, up to 11.9" fully extended
0deg, 5deg or 10¡ lockable incremental tilt
+/-1deg roll for horizontal screen alignment during installation
Built-in cord management
Lock Keyª installation tool secures arms for screen installation
Lock-out screw prevents unwanted extension
Mounts to 16" wood studs, concrete, cinder block
Includes mounting and screen attachment hardware
SP850-UNL, SP850-UNL-S (universal security models)
SP850-UNLP, SP850-UNLP-S (universal standard models)

Load Capacity: UL listed to 150 lb (68 kg)

Dimensions: (w x h x D) 21" x 9" x 2.25" (53.3 x 22.9 x 5.7 cm)

Product weight: 20.1 lb (9.1 kg)

FINISH: Scratch resistant fused epoxy

AVAILABLE COLORS: Black: SP850-UNL, SP850-UNLP
ÊÊÊÊÊÊÊÊÊÊÊÊÊÊÊÊÊÊÊÊÊÊÊÊÊÊÊÊÊÊÊÊÊÊÊÊÊÊÊ Silver:SP850-UNL-S, SP850-UNLP-S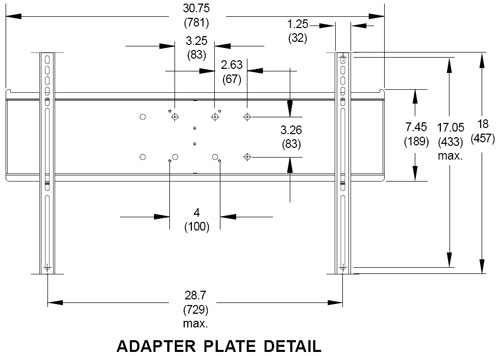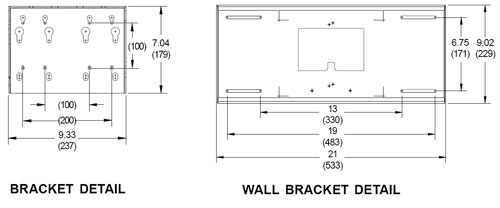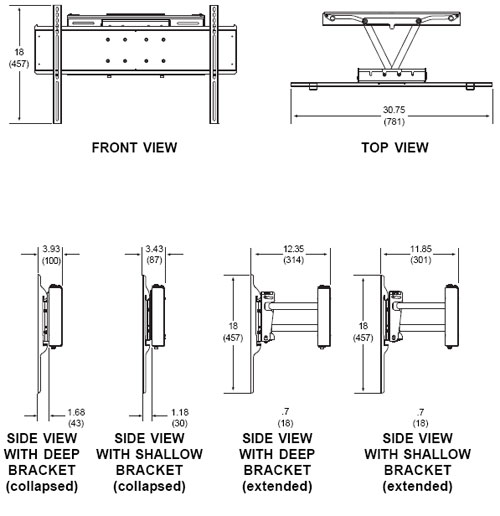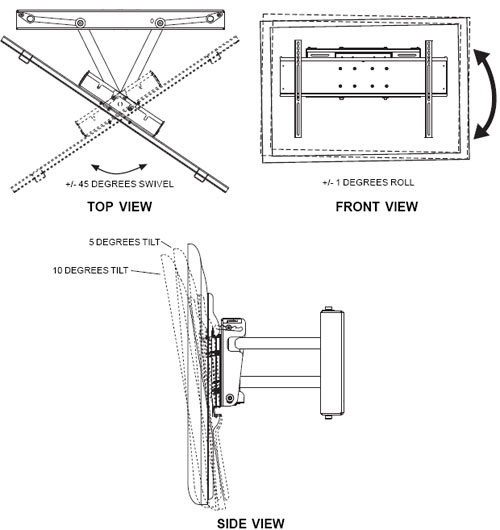 Ê
NOTE: Shipments to all international destinations as well as Hawaii, Puerto Rico, Alaska, APO addresses or PO Boxes may require different shipping costs than what will be presented during the checkout process. If necessary, we may contact you to update your shipping charges after your order has been placed. Please call us at 888-488-2635 for details should you have any questions.