SwitchEasy Nude Slim Case Cover fits Apple iPad Fuchsia
Model: SW-NUPAD-F
The SwitchEasy Nude Cover for iPad makes your device as naked as it can be. Measuring at a tiny 1mm thin, and unlike other thin cases on the market with matte finishes that can wear off over time, NUDE's super tough polycarbonate material is polished to a high gloss, this not only looks great but also offers excellent grip.
State of the art 1mm Ultra Thin casing
Made from Super Strong polycarbonate material
Easy touch button access
Compatible with iPad
Nude is an ultra thin protection solution unlike any other in the market. Nude is unique in its class as it is thinner and tougher than any of its contenders. Measuring in at a tiny 1mm thin, this is the optimum thickness giving you enough protection while still being thin enough to go unnoticed - it's as naked as it can be.

As a SwitchEasy tradition, all of their Ultra Clear cases have no lines or mold markings of any sort that could compromise the beauty of a clear case, and Nude is an excellent example of this. If you add to the equation that Nude is only a remarkable 1mm thin, the end result is an Ultra Clear, Ultra Thin case with an unbelievably tough scratch resistant coating. It's so discreet you'll barely notice you have a case on.

The first thing you'll notice about your new iPad is its size and weight. Although it's great to hold your iPad, after a while it can get a bit tiresome - that's where we come in. Your NUDE package comes complete with 2 ultra compact foldable stands made for your iPad, one in pearl white and one in piano black to suit your taste. Perfect for your home or office, these useful little stands can also be easily folded up and carried around in your pocket or bag ready for the next time you want to prop up your iPad, sit back and enjoy the view.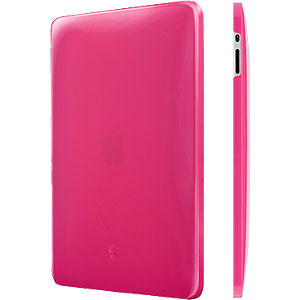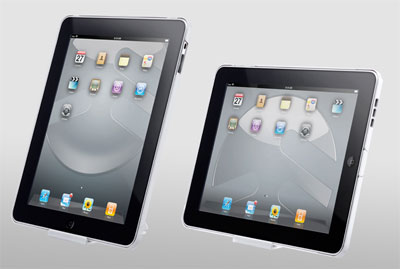 What's included:
One NUDE ultra thin casing for iPad
Two portable fold-out stands
One anti-static Screen Guard
One Microfiber Wipe
One Squeegee for your Screen Guard application
Two Headphone Jack Protectors
Two 30 Pin Connector Protectors
NOTE: Shipments to all international destinations as well as Hawaii, Puerto Rico, Alaska, APO addresses or PO Boxes may require different shipping costs than what will be presented during the checkout process. If necessary, we may contact you to update your shipping charges after your order has been placed. Please call us at 888-488-2635 for details should you have any questions.